Inducing Labor
Approximately 40% of labors are induced. Learn the different methods of inducing labor.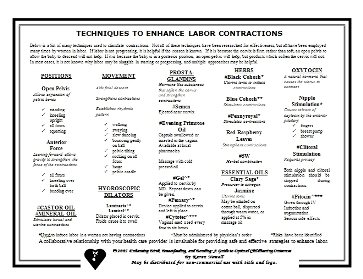 On This Page
Directory of Information on Inductions
&nbsp &nbsp &nbsp &nbsp &nbsp
Medical Inductions &nbsp &nbsp &nbsp &nbsp &nbsp
Natural Methods &nbsp &nbsp &nbsp &nbsp &nbsp
Self Induction &nbsp &nbsp &nbsp &nbsp &nbsp
Risks and Benefits
Free download
Techniques to Enhance Contractions
List of techniques for augmenting and inducing contractions.


Medical Inductions
Risks and Benefits of Induction
Understand the common reasons for labor induction as well as reasons to avoid inductions.
Risks and Benefits of Labor Induction
outlines information both on the value and potential risks of inducing labor.
Methods of Medical Induction
Methods of
medical inductions
reviews techniques commonly used in the hospital for induction of labor. These include:
Cervical Ripening
Membrane Sweeping
Amniotomy
Pitocin
Pitocin Induction
More thorough discussion of
induction with pitocin
, including information on bishop score as an assessment for cervical readiness.
Natural and Self-Induction of Labor
Natural Labor Induction
Compare
natural labor induction techniques
and self-induction methods. The most common natural labor techniques include:
Sexual activity
Physical Activity
Massage
Essential Oils
Aromatherapy is the application of
essential oils
which can be considered either a natural induction method or self-induction method. Common oils used in labor, safety considerations, and methods of use are discussed.
Herbal Induction
Various herbs from plants are used for
herbal inductions
. Safety of herbs in pregnancy, common herbs used in labor inductions, and safety issues are explored.
Castor Oil Induction
This topic will keep you running! The use of
castor oil and other laxatives
is presented, as well as safety concerns, methods of use, and effectiveness.
Prostaglandins
The use of naturally occuring
prostaglandins
is explained, including the use of evening primrose oil.
DOWNLOAD: Techniques to Enhance Contractions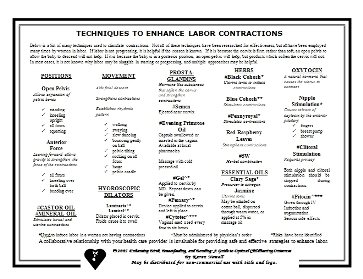 Click the picture to the left to download the Techniques to Enhance Labor Contractions brochure. It provides researached information on numerous methods used to induce labor and/or stimulate more effective contractions once labor has started.




Information At A Glance
The information on this brochure is in outline form. While it is not comprehensive, it does give a quick and easy reference for commonly used techniques.

Information identifies:
Methods which can be used for induction or just for augmentation
Risks identified by research
Simple explanations as to why or how they are used
Identifies methods requiring medical license to use
Techniques Used to Enhance Labor
The techniques listed in this download include:
Positions with Open Pelvis
Positions using gravity
Physical movement and activity
Laxatives
Dilators
Prostaglandin agents
Herbs
Essential Oils
Oxytocin
Aquatherapy
Massage
Disruption of Membranes
Shiatsu
Abdominal Lifting
Vocal Toning
Focusing and Tuning In
Return from Inducing Labor to the Better Childbirth Outcomes HOME PAGE.